Treatment of lead and asbestos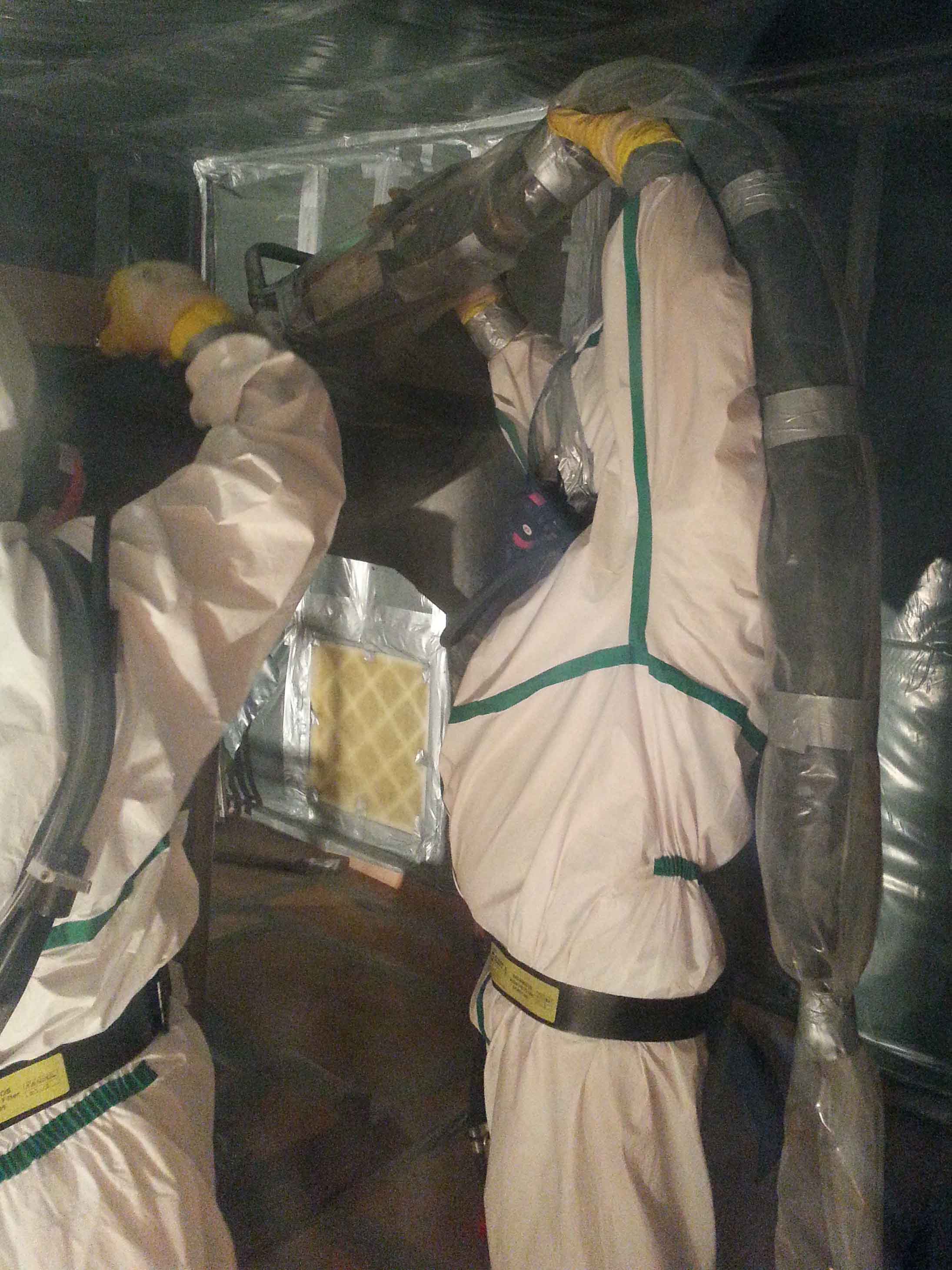 Asbestos removal
is a highly
supervised
and
regulated
activity that must be carried out by
specialized professional staff
with
highly qualified, trained and certified personnel
.
Since the regulations governing asbestos removal projects have been tightened with Decree No. 2012-639, the regulations are constantly evolving and finding its way keeps complex in this maze of texts.
It is why MASCI Group has leveraged its experience in coatings for Industry and Construction and set-up a dedicated branch specialized in the treatment of asbestos, lead and heavy metals.
Our certification "Treatment of asbestos for work performed in France" with AFNOR (Certificat AFAQ N ° O-56944), which is regularly audited, guarantees the full compliance with the regulation (According to STANDARD NFX46-010) for the different classifications of interventions (sub-section 3 or 4).
Our certified professionals are active in all markets served by the group: Nuclear, Energy, Oil & Gas, Chemicals, Process and Manufacturing Industry, Civil works and Construction as well as Marine and Transport. They master the required rigor of the documentary system and the management of particularly demanding assignments.
They can operate simultaneously on protective coating jobs or specifically on asbestos removal projects, for example during dismantling. In all cases, they put into practice techniques and know-how uniquely acquired through Group activities, for example asbestos treatment by abrasive blasting, ultra-high pressure water jetting or by induction on metal supports.
With the perspective of increasingly stringent and ever-changing legislative requirements, we propose to become your asbestos removal partner who will support you with his expertise and advise throughout your administrative and technical procedures.

Clean Room for the treatment of asbestos off-site customers and better use of materials
In June 2016, MASCI Group inaugurated a fixed unit for decontamination and asbestos treatment in Richemont (57) for transportable asbestos materials. It made it possible to carry out asbestos removal off-site customers, to minimize project disturbance, to reduce ultimate waste and to increase the share of the valued materials.
The unit, with a
volume of 300 m3
, is fitted with
the most recent equipment in terms of regulation and vacuum control
(extraction capacity of 28 volumes / hour with extraction system of more than 20 000m3 / H).
The latter has been designed to treat asbestos parts up to 100 tons and reduces the levels of dust from the most emissive processes to controlled thresholds.
We propose the possibility of outsourcing the treatment of asbestos, with all its risks, in accordance with the regulations (DGT chart of March 2015) and satisfying the highest requirements in terms of process, control and recycling of materials.
As the level of waste generated can be reduced to a minimum, the choice of inerting it becomes an option, thus generating no ultimate waste post treatment.
The clean room is also used to decontaminate the materials used in asbestos context, for internal use by Masci Group and its partners.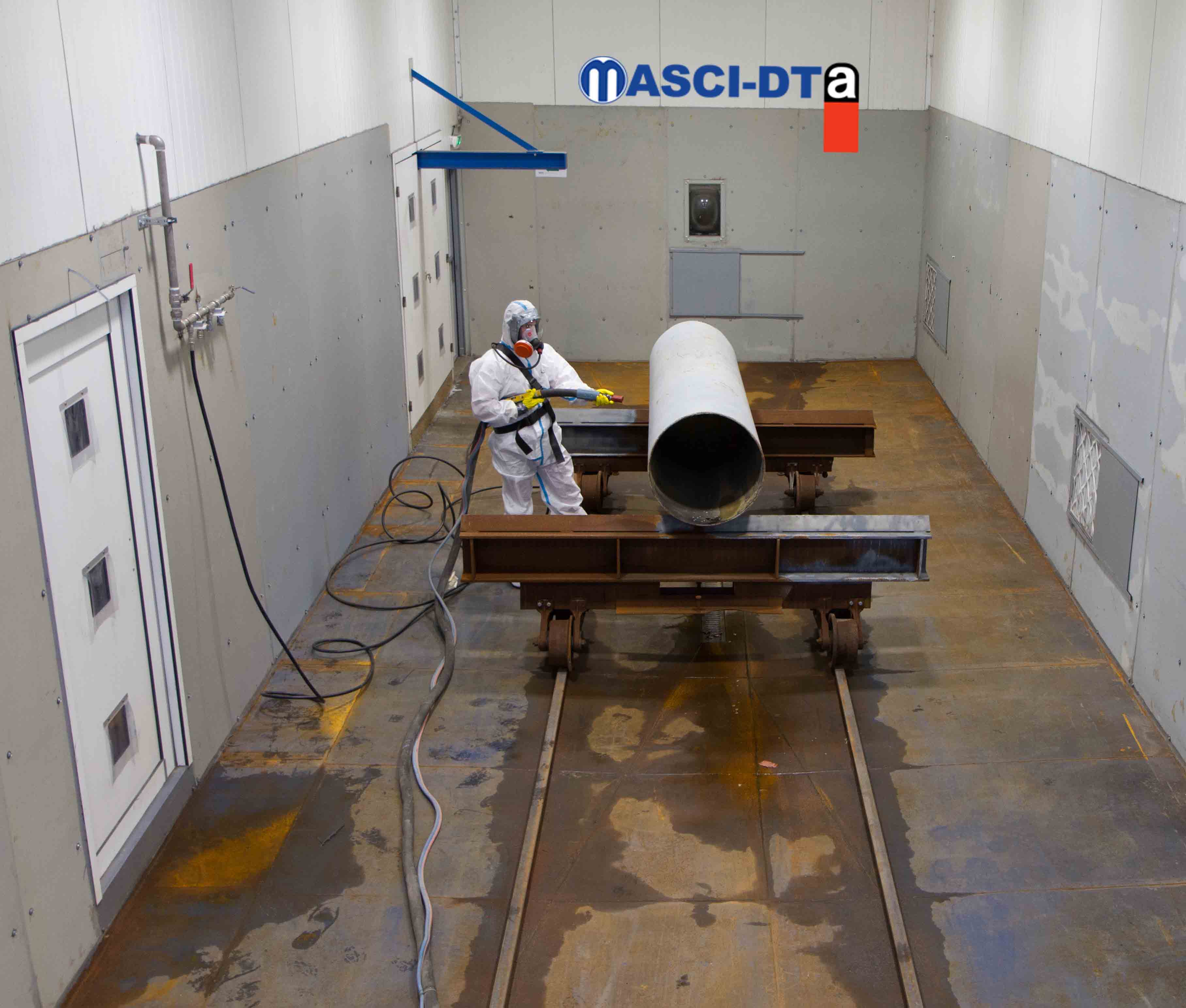 Treatment of asbestos by an induction removal process
Masci Group is one of the precursors in France in the coating removal by electromagnetic induction on metal substrates. Being equipped with its own equipment for 8 years, it is today the company with the most extensive experience and the largest number of qualifications in France.
The economical, ecological, clean and safe process has proven to be particularly effective in many areas such as the removal of thick, leaded, asbestos-containing coatings, including in a radioactive environment.
More ecological, this innovative method is based on induction: an electromagnetic field generates a localized heat that breaks the bond between the coating and its ferromagnetic support. There is therefore no projection of particles, dust or noise, which in many cases allows for parallel work or overlapping activities and reduces waste to simple residues of the coating itself.
By contrast, waste resulting from the so-called "classical" methods (sandblasting, hydro-stripping …) are, by definition, contaminated by the toxic substance (asbestos, lead …) and require a specific treatment that generates costs.
In addition, the working conditions of the operator are also improved because the method produces no noise, no vibration, no media production (sand, water, etc.). This also reduces operator exposure to contaminants.
Quicker, it reduces or even eliminates the work of containment of the treated areas and allows to operate with level 1 personal protective equipment.
Masci Group is currently developing with its suppliers a second-generation equipment, which increases productivity, safety and security for the installations and for the operators.